Bumper & Body Repair in Orange County, CA
At Ultimate Auto Recon, we provide COMPLETE AUTO BODY REPAIR Services for all types of vehicles. We offer painting and refinishing services with expert color matching from minor to medium collision damage. Our technicians have over 20 years of experience in the Automotive Service Industry. We provide expert repairs with like new results. We guarantee all of our work while maintaining customer satisfaction. Most cosmetic repairs can be done in one day!
We also specialize in plastic bumper repair. By repairing a bumper, as opposed to replacing one, you can save up to 75% of cost. A bumper repair by a body shop will typically cost two to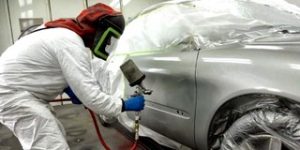 three times as much for the same repair. Our process restores your damaged bumper to factory specifications within a few hours. Traditional Auto Body Shop methods will tie up your car for days if not weeks. Don't replace your scratched, dented bumper, let us repair it to its original beauty. We only use the highest quality products and materials. Our bumper repair technicians use a computerized paint measuring system along with mixing devices that allow for color match and texture. Improve your vehicle's appearance and give it the attention it deserves! Satisfaction Guaranteed!
CALL TODAY TO SCHEDULE AN APPOINTMENT!